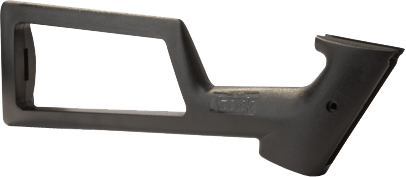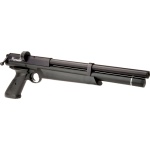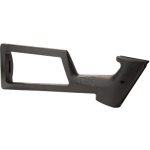 Benjamin Marauder PCP Air Pistol
Description
Additional information
Reviews (0)
Description
Benjamin®'s NEW hunting PCP pistol incorporates all the features that make the Marauder and Discovery exceptional air rifles. An excellent choice for hunting, the new Benjamin® Marauder .22 caliber PCP pistol is ultra-quiet and, with practice is more than accurate enough to easily take out small game from up to 33 yards away at velocities up to 700 fps.
The newly improved trigger on the Marauder pistol is accomplished by redesigning the grip frame from our popular 2240 series of guns and adding an adjustable, two-stage, drop sear trigger utilizing precision heat treated metal components. The mechanism is designed and built with the same materials and precision as the very popular Marauder rifle trigger group.
This pistol provides all the strength and accuracy required for small game hunting. The Marauder PCP Pistol features a self-indexing, 8-shot clip and a 12-inch choked and shrouded barrel (scope not included). Overall length of the pistol is 18-inches (pistol grip configuration). It comes equipped with a stock extension to shoulder mount the gun, a handy feature in the field, and with 3000 psi of compressed air, this gun has the muscle to quietly and dependably get the job done.