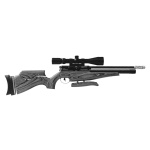 BSA Gold Star SE .22 Multi Shot Black Pepper
Description
Additional information
Reviews (0)
Description
The Gold Star SE is the first purpose built PCP target rifle to come out
of the Factory in Birmingham. Accuracy is the top requirement for
disciplines like field target or bench rest. The BSA Gold Star SE does
not disappoint as match winning accuracy comes as standard from the
enhanced cold hammer forged BSA barrel. The secret recipe for this
enhanced barrel is closely guarded, however the results are easy to see
as the Gold Star SE will shoot pellet on pellet at extended ranges. BSA
fits an air stripper system to tune the pellet of choice for the best
accuracy. Of course the trigger in a target gun must provide a clean
release of the shot to take full advantage of the regulated actions
capabilities. The BSA Gold Star delivers a fully adjustable match grade
unit as standard equipment. The fully adjustable black pepper laminate
target stock includes butt pad adjustments for length of pull, height,
camber adjustment, cheek adjustments for up down and side to side. A
hamster is included as standard for comfortable use in field target and
can be removed for hunting or bench rest use. The positive bolt action
is easy to use and the 10-shot magazine system can be converted to an
optional single shot magazine when needed. The power of the rifle is set
to provide long range accuracy for target or field use. The BSA Gold
Star SE is a match winning capable rifle that is equally at home on the
target range or hunting in the field.