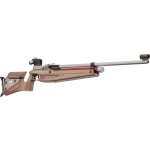 Feinwerkbau (FWB) 800 Junior
Description
Additional information
Reviews (0)
Description
The model 800 junior is an absolute classic in the product range of
Feinwerkbau.
The stock is made of laminated warp-free wood and suitable both for
right and left-handed shooters.
The most interesting feature of the model 800 junior is it adapts to the
needs of the shooter. The gun contains various possibilities for
adjustments of the trigger, the butt plate, and the cheek piece allowing
the shooter the best possible results at the shooting gallery. Being a
junior model, the Feinwerkbau Junior 800 has the same barrel and trigger
as the full-size guns, with changes only to the length, weight and
stock's adjustability, so smaller shooters can easily handle their air
rifle.