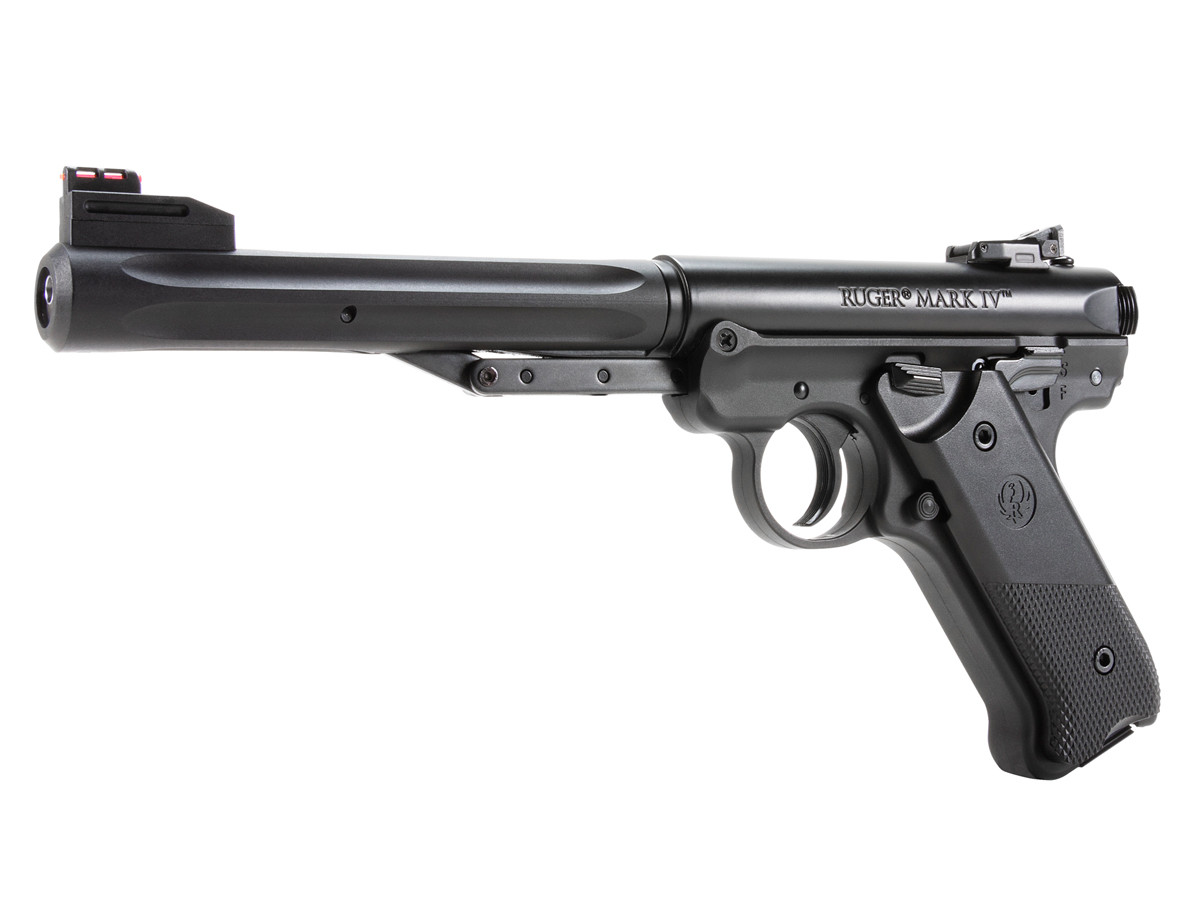 Description
The Ruger Mark IV is a breakbarrel pellet pistol modeled after the successful line of firearms with the same name. It gives you maximum speeds up to 360 fps when shooting .177 caliber pellets and will provide you with endless enjoyment while plinking or for target practice.
If you're familiar with the real steel handgun version of the Mark IV, you'll recognize the air pistol version right away, because it has many of the same style components to provide you with a very similar look and feel. It's great for people new to airguns as a way to get familiarized, or for anyone who wants to shoot round after round without wearing themselves out, because it has a low cocking effort and it's lightweight.
This single shot air pistol features a rifled barrel, so it gives you shots that are more accurate when using pellets than competing models without rifling, and the light and dependable single stage trigger gives you a predictable break for each shot. It has a manual/automatic thumb safety and it features a handy one stroke cocking mechanism to provide you with ease of use.
You won't have to worry about losing your hold on the gun because the grip panels have a checkered part at the bottom, and they also have a smooth part at the top that highlights the Ruger logo. Plus, you'll get extra accuracy because of the adjustable rear sight and the fixed fiber optic front sight featured on this air pistol.
If you're in the market for an airgun version of a famous and classic handgun that is as much fun to shoot as it is affordable and attractive, get the Ruger Mark IV at Airgun Depot now.
Ruger Mark IV Features:
.177 cal pellets or BBs
Max velocity: 360 fps (using 7 grain pellet)
Spring piston breakbarrel
Rifled barrel
Single shot
Single stage trigger
One stroke cocking mechanism
Manual/automatic thumb safety
Fiber optic front sight and adjustable rear sight
Checkered/smooth grip panels
Barrel length: 5.3″
Overall length: 11″
Weight: 3.15 lbs.
Cocking Effort: 18 lbs