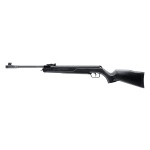 Walther LGV Challenger Air Rifle
Description
Additional information
Reviews (0)
Description
At the IWA show in Nurenburg, Germany, AOA staff was invited into the
Walther private airgun range to test a new ground-breaking spring
piston rifle and offer our response. The rifle tested was as smooth and
quiet as any custom tuned springer we have ever previously had the
pleasure of shooting. With zero vibration and almost no recoil the rifle
printed precharged pneumatic size groups with almost no noise. The
rifle was the new Walther LGV Ultra. Charged with the task of making
the finest spring piston rifle in the world, the Walther design staff
went to work. After over two years in development the Walter staff has
met the challenge and produced the all new Walther LGV. Factory standard
features like synthetic piston bearings at the front and rear of the
piston. Noise and vibration eliminating spring guide. Computer designed
match grade fully adjustable trigger block, Ergonomic safety position
at the rear of the receiver. Beautifully polished and blued action with
standard and target stock options. The breech lock up system provides
rigidity for accuracy as good as any fixed barrel spring piston gun. The
LGV Challenger Ultra sports a synthetic sporter stock. The receiver
is of course grooved for scope use. The forend of the stock has
stippling for a comfortable hand position and the pistol grip has
stippling for a no slip hold. The LGV Master has all metal front
and rear sights and included a muzzle weight for steady hold that is
threaded to accept a sound suppressor where legal. The new LGV is sure
to be the benchmark for spring piston sporting and target rifles to
come.