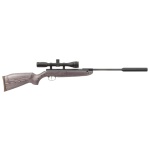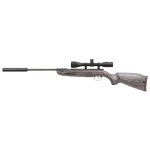 Weihrauch HW30S .177 Urban Pro Laminate
Description
Introducing the HW30S Deluxe "Urban Pro" combo. Weihrauch has brought
together all of the favorites into one affordable package that will
easily become your favorite piece of airgun kit! Starting with the
highly popular HW30S rifle in the Deluxe Laminate stock, known for its
light weight, ease of cocking, and renowned Rekord trigger. Mated to it
is a Weihrauch silencer, which takes the quiet report down to dead
silent and gives the shooter a comfortable cocking aid as well. Included
with the kit is a Weihrauch 4×32 AO riflescope and mounts which dial in
the combo and give excellent accuracy and consistency. The combo is
named the Urban Pro because it will quickly and easily dispatch anything
and everything around the house, from pests to paper targets with
Pro-like performance!