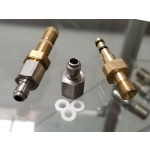 Stainless Steel Probe Adapter
Description
STAINLESS STEEL 1/8″ Female BSPP to Male Quick Disconnect.
This is use to connect your fill probe to your Foster style
If you have an Air Arms, Daystate, Edgun, Uragan/Vulcan Zbroia, etc, you will probably need this with the Airgun probe that comes with the gun.   One only needs to insert the 3 crush washers into the female threads of the adapter and then screw in the probe.
MADE IN USA, not Asian knock-offs.