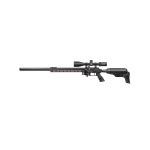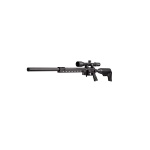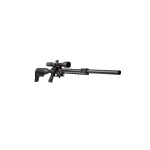 Description
Additional information
Reviews (0)
Description
The power, innovation, and performance of the Panthera – but geared for hunting
The FX Dynamic is a pneumatic rifle built for more than competition. It's a rifle that wants to hunt. Harnessing technology at the forefront of airgun performance, the Dynamic brings higher air capacity and configurations than its competition focused sister rifle, the FX Panthera. The Dynamic also includes a .35 caliber option that will allow up to 200 ft lbs of energy while maintaining world-class FX accuracy and precision. This purpose-built slug rifle utilizes its namesake breech block. The Dynamic block has a one-piece, compact, short-impulse/high-power balanced valve which is both extremely efficient while also allowing a tremendous and precise amount of air with each shot. Tuned properly the rifle will achieve low single digit standard deviations, one of just many advantages the FX Dynamic offers. The block is fed by the cutting-edge Over-The-Barrel Power Plenum, a design only found with FX. This allows multiple plenum lengths to be employed to match the caliber and power of the rifle. This plenum also applies consistent regulated pressure to strengthen barrel rigidity.
The FX Dynamic can be built and offered in multiple configurations:
– The Dynamic Express has a 480cc carbon fiber bottle placed directly behind the action with a molded tank cover, cheek rest & butt pad. In front of the action is a 14.75" long Arca rail complete with M-LOK sections, bridge and a barricade block.
– The Dynamic Double Express replaces the front Arca rail with an additional bottle. This allows for an immense amount of onboard air storage that can easily surpass 1,000cc of air volume.
– The Dynamic AR uses a front placed carbon fiber bottle and replaces the rear bottle with a folding AR stock receiver (AR stock and buffer tube sold separately).
– The rifle will also be offered in the budget friendly Dynamic VP configuration. The rear bottle is a 400cc aluminum bottle (still wrapped with the FX molded cheek cover and butt pad). The VP ships without a hardcase and is also without the front FX arca rail, leaving it bare for future upgrades or to be configured to shooters needs.
Additional information
| | |
| --- | --- |
| Caliber | .177, .22, .25, .30, .35 |
Availability
Now available in-store at
15608-B Graham St Huntington Beach 92649


Powered With Oliver Pos