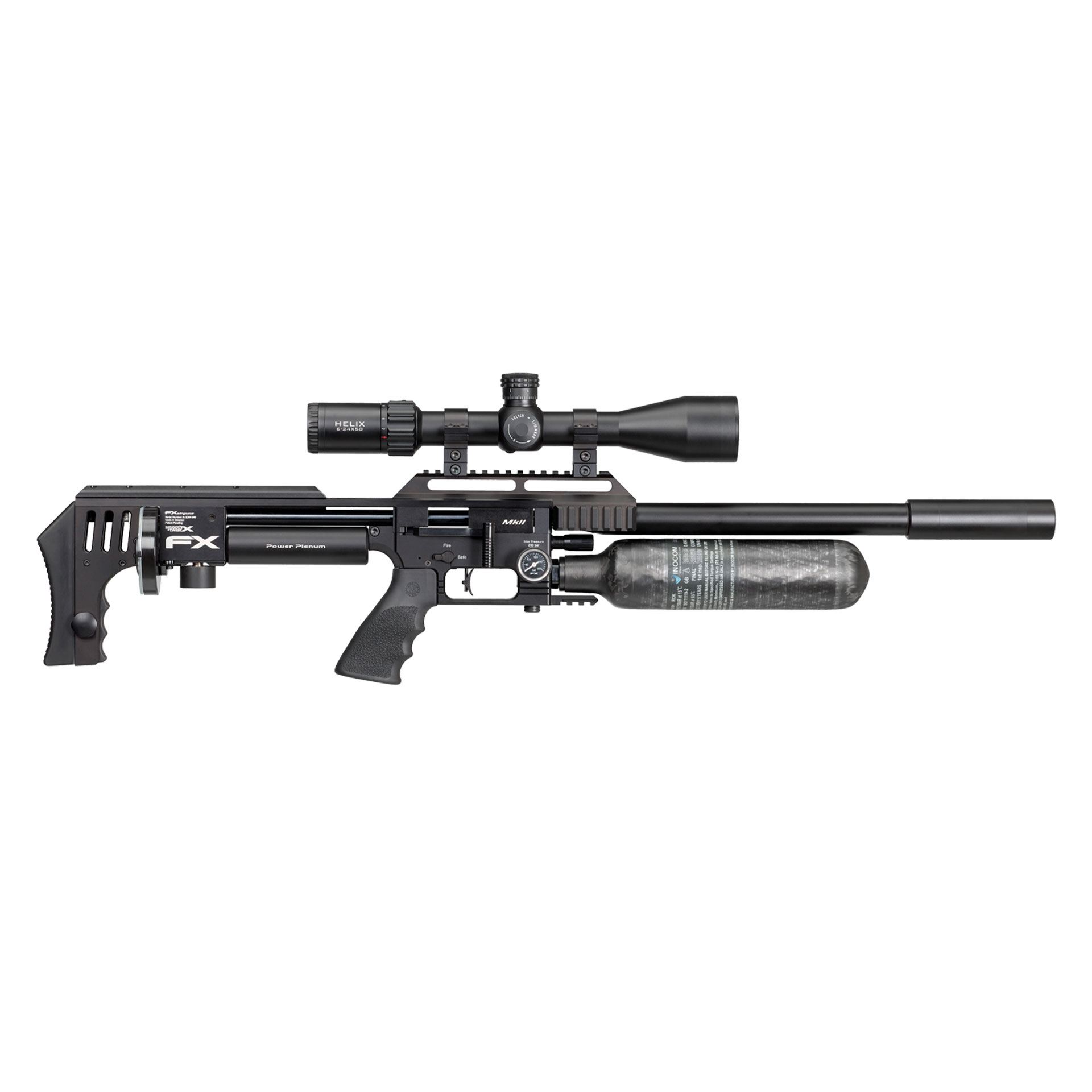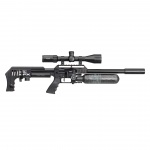 Description
Additional information
Reviews (0)
Description
CALL FOR AVAILABILITY!
Every so often there are leaps forward in technology that forever change our perception of what is possible. The FX Impact is such a phenomenon and has permanently pushed forward the boundaries of what to expect from an air rifle.
This all-in-one air rifle has been engineered to satisfy the most demanding airgun shooter with high-performance features. The Impact is completely adjustable: air valve control, hammer spring tension, and even regular adjustments can be made externally to allow for various shooting scenarios.
The Impact now incorporates the new FX Smooth Twist X Barrel which is housed in the Interchangeable Barrel Liner System allowing the shooter to swap and change barrel liners of various twist rates, bore specifications and more; all to tailor the barrel to different projectile sizes. 
The breech and barrel assembly also incorporate a quick-change system that allows to change caliber with ease. All that is required is an extra barrel and pellet probe for each caliber. 
Note: Caliber .35 requires that power plenum is used.
The smooth side cocking lever is placed perfectly above the trigger to allow for the quickest possible follow-up shot. This high powered and tactical, yet lightweight and compact airgun is a sensational piece of cutting-edge technology. With all these features wrapped into one rifle, the FX Impact will continue to be the benchmark for air rifles worldwide.
Massive power upgrade 2020!
The newest power upgrade to the FX Impact is the addition of the FX Power Plenum. 
This exciting new addition will take the FX Impact to whole new level as it opens up the ability to shoot an even wider variety of airgun projectiles (especially airgun slugs) at optimum velocities, all while obtaining the unmatched accuracy that FX Airguns are known for.
A plenum in an airgun, is the chamber of compressed air located before the transfer port. 
The air it contains is released when the trigger is pulled. 
The air then rushes through the valve opening behind the projectile and propels it down the barrel. The amount of air pressure combined with the volume of air released is one of the key aspects to achieve velocity. The benefits of the FX Power Plenum are numerous.
Higher velocities can be obtained
Increased shot count per fill
With the addition of the Power Plenum, the 75 shots per fill that the standard tuned .25 caliber previously achieved, is now increased to 110 shots per fill.
Lower regulator pressure required
You get the same velocity result with lower regulator pressure due to the Power Plenum. Lower pressure will also result in less wear and tear maintenance to your rifle. While retaining the popular flexibility of the already iconic and ground-breaking Impact, the new Impact MKII with the FX Power Plenum, brings airgunning to a whole new exceptional level for countless shooters worldwide.
Impact Caliber 9mm (.35)
Release date April 2020!
580cc bottle and 800mm barrel, comes in a case which is not cut out model.
Impact Sniper Edition
Sniper Edition comes with 700 mm barrel (not available in .177 or .35).
Compact Edition
Compact version comes with 300cc bottle and shorter barrel.
Available in caliber .177  .22 .25 and .30
COCKING SYSTEM
Forward positioned sidelever
MAGAZINE TYPE
Removable high capacity
38 shot when Cal .177
28 shot when Cal .22
28 shot when Cal .25
23 shot when Cal .30
18 shot when Cal .35
STOCK
AR15 style grip
Adjustable recoilpad (height)
CALIBRE

4,5 (.177)

5,5 (.22)

6,35 (.25)

7,62 (.30)

9,00 (.35)

BARREL

FX Smooth Twist X
Match grade
Free floating
Length 500 mm 4.5 (.177)
Length 600 mm 5.5 (.22) *500mm if sub 12ft for UK.
Length 600 mm 6.35 (.25)
Length 600 mm 7.62 (.30)
Length 800 mm 9.00 (.35)

SHOT CAPACITY
4,5 (.177) ≈ 325 shots @ 18ft/lbs. ≈ 670 shots @ 12ft/lbs
5,5 (.22): ≈ 225 shots @ 30ft/lbs. ≈ 640 shots @ 12ft/lbs
6,35 (.25): ≈ 110 shots @ 47ft/lbs
7,62 (.30): ≈ 70 shots @ 77ft/lbs
9,00 (.35): ≈ 40 shots @ 134ft/lbs
FILL PRESSURE
Max 250 bar (3600 psi)
SAFETY
Switch style
OPTICS

Picatinny rail

MUZZLE
Built-In Shroud system with additional moderator. (variations may occur depending on country).
PRESSURE GAUGE

One for airtube pressure

One for regulator pressure

TRIGGER
Adjustable Match Trigger
(variations may occur)
VELOCITY
4,5 (.177): 290 m/s • 950 ft/s with 8,44 gr pellet
5,5 (.22): 280 m/s • 920 ft/s with 16gr pellet
6,35 (.25): 270 m/s • 900 ft/s with 25,4gr pellet
7,62 (.30): 265 m/s • 870 ft/s with 46,3gr pellet
9,00 (.35): 260 m/S • 860 ft/s with 81gr pellet

Note: above figures is factory recommended FAC Power output, but can be turned higher/lower if needed.

ENERGY
4,5 (.177): 24 J • 18 ft/lbs
5,5 (.22): 41 J • 30 ft/lbs
6,35 (.25): 65 J • 47 ft/lbs
7,62 (.30): 105 J • 77 ft/lbs
9,00 (.35: 197 J • 145 ft/lbsNote: above figures is factory recommended FAC Power output, but can be turned higher/lower if needed.
AIR CAPACITY
Standard

  

480 cc
Compact 300cc
9mm (.35) 580cc
AIR CYLINDER

Carbon fiber tank

LENGTH
Depends on barrel
WEIGHT
3,2 kg
CHARGING
Foster Quick Disconnec
MORE FEATURES
More features.
Power adjuster (hammer spring tension), Valve adjuster (valveflow tuning), Interchangable Caliber System, Multiple Accessory rails (picatinny) sides and bottom, Match Trigger, AMP Regulator – Externally Adjustable,

 

Plenum
Power Plenum *not available on sub 12ft versions.
Additional information
| | |
| --- | --- |
| Brand | FX |
| Barrel Length | 500mm, 600mm, 700mm, 800mm |
| Caliber | .22, .25, .30, .35 |