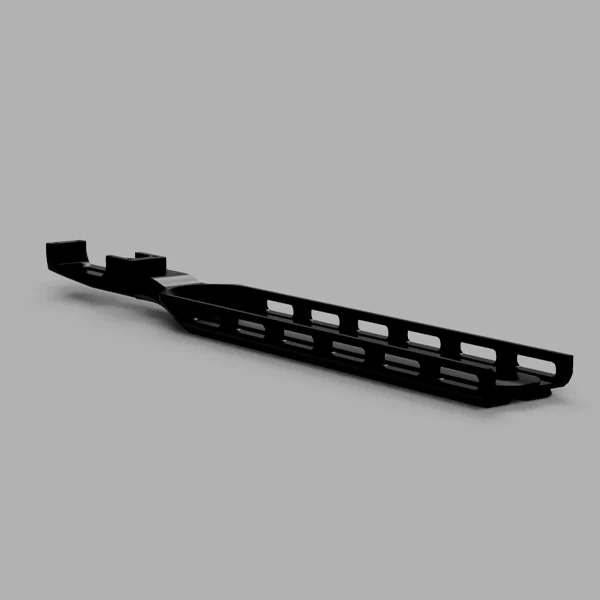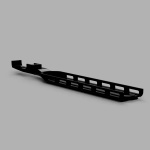 Kraford & Lypt Gen4 Trigger Guard
Description
Additional information
Reviews (0)
Description
The Gen4 trigger guard offers the most refined, ergonomic feel out of any on the market today. Its cutting-edge design has four different lengths to satisfy all current bottle sizes, and features compatibility with M-LOK for easy installation of attachments like rails and weights. Integrated ARCA rail and an adjustable Picatinny rail along the bottom with a t-slot groove to provide a secure and steady hold of any bipod. With zero snagging and a robust construction, this trigger guard is the perfect addition to any tactical collection.
4 sizes best fit for different bottles. Lengths from front to back where the pistol grip ends.
700cc: 498mm
580cc: 387mm
480cc: 350mm
300cc: 255mm
ARCA + T-Slot:
The Gen4 guard features integrated T-slot and ARCA.
The 1.5in platform width of the ARCA creates a strong base allowing us to push this guard out with ample flexure strength.
The T-slot allows you to add and subtract pic rails as desired and put them anywhere you want along the bottom. Each guard comes with 1 pic rail. More can be acquired separately.
Integrated cap:
The cap on the gen4 is much like the gen3 and is secured by a magnet.
Snag resistant:
The bottom of the Gen4 is very smooth. Edges on the T-slot have a large radius, and no snagging angles going from the tip of the guard going all the way back to the grip. This allows you to use the bottom of your guard in many positions, sliding it back and forth to get into the best position. Stops can be added to create a hook.
Low Profile:
This guard is adds the least amount of height to your rifle than any other guard on the market. This makes your rifle less bulky and allows you to fit into tight spots; especially for competition courses.
Weight distribution: 
Add and subtract weights via the side rails to balance your rifle.
Each weight kit comes with 2 weights.
Additional information
| | |
| --- | --- |
| Bottle Size | 300cc, 480cc, 580cc, 700cc |