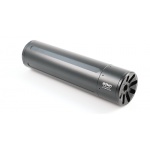 DonnyFL Sumo 1.6″ x 6.25″
Description
Additional information
Reviews (0)
Description
THIS WILL BE BY FAR YOUR FAVORITE LDC. WHY SUMO?
Latest model with swappable rear endcaps.
Mono-core design to increase accuracy and limit the chances of pellet clipping.
No moving parts or epoxy that may become loose after 1000's of rounds.
Precision CNC'd by professional machinist.
Sand blasted and anodized for maximum durability.
Take apart in less than 10 seconds by unscrewing the rear end cap and pushing back the mono-core. No silly hex key or torch needed when you want to perform maintenance inside the unit.
Customizable, you can further dampen the sound by wrapping the interior tube with different sound absorbing materials.
Comes pre-wrapped in felt.
Machined grooves on the outside for easy handling.
Weight 5.6 oz
*Note: If you see white lines on the inside of the front cap, that's ok. Those were caused by the prongs holding the pieces while anodizing. They are not pellet clippings.
*Airgun use only, will not ship outside of the US
Additional information
| | |
| --- | --- |
| SKU | |
| Brand | DonnyFL |
| Caliber/Endcap | .177 | .22 – 1/2×20 Bolt Endcap, .177 | .22 – M14x1.25 Endcap, .177 | .22 – M20x1 Endcap, .22 | .25 – 1/2×20 Endcap, .22 | .25 – M14x1.25 Endcap, .25 | .30 – 1/2×20 Endcap, .25 | .30 – M14x1.25 Endcap, .25 | .30 – M20x1 Endcap |
Availability
Now available in-store at
15608-B Graham St Huntington Beach 92649


Powered With Oliver Pos