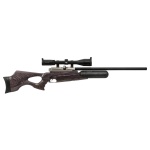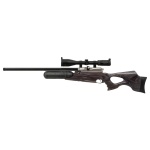 Daystate Wolverine 2 Hi-Lite Laminate Air Rifle
Description
Daystate developed the big bore sporting rifle in response to great demand from airgun hunters world wide.
Enter the 0.303 caliber Wolverine 2
In addition to packing a 303 caliber punch the multishot Wolverine 2
is also unique in featuring gun handling and safety's that will be more
familiar to firearm shooters such as a bolt open safety a resettable
safety catch plus a pressure system that prevents the rifle chambering
more than one bullet at a time.
Why a Daystate big bore air rifle ?
Airgun hunters have for a long time, enjoyed the benefits of using an air rifle to take small game, and for pest control.
Airguns are unique, with low cost of ammunition, the potential for
lower power outputs than firearms making them safer within buildings and
hazardous locations, and less environmental impact (noise).
Until now, airgun hunters wishing to hunt for medium sized game have had to change to full bore rifles or shotguns.
With the introduction of the Wolverine 2 303 there is now an airgun alternative !
Featuring a new specially designed .303 airgun bullet, the Wolverine 2
303 with its 5 shot rotary magazine and muzzle energy of up to 100 ft
lbs is more than capable of taking larger game species at sensible
airgun ranges.
Open bolt safety
Waste air powered magazine rotating system that will not allow for loading two pellets into barrel
Reinforced magazine
Large diameter shroud system with a factory installed Hugget sound moderator for near silent operation
Owner reversible bolt for left hand shooters
Ambidextrous Laminate stock
Precision machined alloy trigger guard
Curved rubber butt pad
The World's Best Warranty on a PCP rifle
The new Wolverine 2 is destined for greatness in the field or winners
circle. The Hi-Lite model features a 480cc Carbon Fiber Bottle and
Huggett Sound Moderator System as standard.