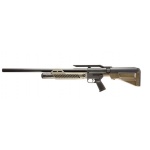 Umarex Hammer .50 Cal Air Rifle
Description
UMAREX HAMMER™ .50 CAL AIR RIFLE
The Umarex Hammer is an American-Built .50 caliber air rifle. Innovative engineering and advanced technology make this the perfect air rifle for hunters and shooting enthusiasts alike.
Top of the Food Chain
Power without Powder
The .50 caliber Umarex Hammer didn't alter the laws of physics. It just took advantage of them. The Umarex Hammer's primary objective was to accelerate a greater mass faster using technology, ingenuity, and a big .510 caliber barrel. Unlike a traditional firearm, the Hammer doesn't generate a comparable report or recoil signature. A shooter in a hunting situation will not need to wear hearing protection when shooting the Hammer. The recoil of this big bore air rifle can best be described as a firm push, not a sharp kick like other rifles would give. The Umarex Hammer is not just another air rifle. It's made for hunting big game.
LightSpeed™ is Possible
The sheer energy and three full-power shots delivered by the .50 caliber Umarex Hammer is achieved through its proprietary, patent-pending, Lightspeed valve. The innovative engineering used to design this internal mechanism coupled with a .510 caliber, 550-grain lead slug is the recipe for making over 700 foot-pounds of energy at the muzzle. Almost as impressive, it only takes about two pounds of effort to operate its straight-pull bolt. This short, effortless action is all it takes to cock the rifle and advance the 2-shot magazine.
Umarex Hammer™ Ballistics Data: Speed and Energy Generation
Possible results:
| Grain | Material | FPS | Energy |
| --- | --- | --- | --- |
| 200 | Lead | 1055 | 495 |
| 250 | Lead | 1000 | 555 |
| 275 | Lead | 945 | 545 |
| 300 | Lead | 930 | 576 |
| 330 | Lead (Lyman) | 935 | 641 |
| 350 | Lead (Lyman) | 875 | 595 |
| 550 | Lead | 790 | 705 |
High Power Air Rifle Hunting
Top of the Food Chain: Proven in the Field
The Hammer has proven itself on many hunts during its long development cycle with a wide variety of big game. Rossi Morreale of American Airgunner took an Oryx on a hunt in Texas and a whitetail deer in Arkansas and professional hunter and TV host Steve Scott has harvested an American Bison and the big African Cape Buffalo. Steve Criner, host of Real Air Gun Hunting has harvested a number of feral hogs and bobcats, huntress Brittney Glaze harvested an Axis deer, and Umarex USA's Pro Staffer, Eydin Hansen a Fallow deer—all with the .50 caliber Umarex Hammer. Additionally, Umarex USA Marketing Director, Justin Biddle, sported the Hammer successfully on a spring bear hunt in Canada. Each year more and more states are opening big game seasons for big bore airguns. Rest assured that no other air rifle was made for the big game hunt. The Umarex Hammer hits hard. Very hard.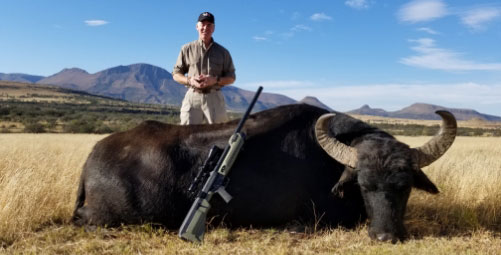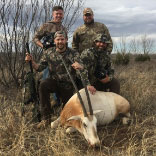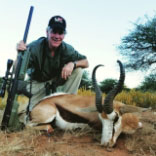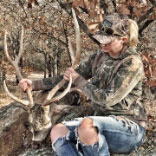 Umarex Hammer™ Features & Specs
---
Multi-shot Reassurance
The Hammer's Lightspeed valve, coupled with a precision regulator instantly pulses a measure of air compressed to 3,000 psi behind the projectile. This innovative patent-pending system has the capability to efficiently propel a .510 caliber 550-grain lead slug at a muzzle velocity of 790 feet per second and a 250-grain slug at over 1,000 feet per second. The bolt action will allow a quick follow-up shot from the two-shot linear magazine in mere seconds. Not that you'll need it, but the Umarex Hammer will launch three full power shots down range before the velocity begins to dip at all. In fact, your fourth shot will be nearly 90% of full power and you'll still get another shot with the remaining air if you've filled the Umarex Hammer to its 4,500 psi capacity. This means that with the Hammer's tank filled you have all the air you'll need for your big game hunting adventure.
Not Just Any Stock
Umarex USA collaborated with PolyOne Corporation, a premier provider of specialized polymer materials, services and solutions, in the design, engineering and material selection for the stock of the Umarex Hammer air rifle. As a result, the stock, forearm and other key polymer components are produced from Nymax, an advanced polymer that withstands the rugged trials of outdoor hunting and shooting. Designers from PolyOne's IQ Industrial Design team added three locations into the rifle's forearm that accept M-LOK accessories and incorporated a sling stud into the lower half of the rear stock. Together, the advanced polymer materials and innovative design, including smooth edges and tight-fitting joints, form a modern and functional stock for the Hammer rifle that is both shooter-friendly and made in the U.S.A.
All That and A Bag of Chips
The Umarex Hammer air rifle delivers more of the features you expect with a modern rifle. It incorporates an 8.5 inch Picatinny rail, Standard Magpul AR style grip, three safeties, rear sling stud, three M-LOK attachment points, quick filling Foster connection for filling with air and rounding out the package a clean 6 lb. trigger. The Umarex Hammer is loaded with features and is easy to operate within the field which will leave you better prepared for your big game airgun hunt.
Built in the USA
Conceived, Designed, Engineered and Built in America
When you are building an air rifle that's made for the hunt, you want to build it right. We couldn't imagine the Umarex Hammer being built anywhere but our hometown, Fort Smith, Arkansas. We've expanded our facility to allow us all the space we need to make the biggest, top of the food chain air rifle ever produced and we've trained our staff and provided cutting edge quality control all along the assembly process.

Features & Specifications Overview
Built in the USA
Made to be a big game hunting air rifle
Capable of delivering 705 foot-pounds of energy
Shoots a 550 grain lead slug at 790 feet per second
Places 3 rounds of 350 grain lead slugs touching at 50 yards
Straight-pull bolt with 2 lb. cocking effort and short, smooth travel
Delivers 3 full-power & 2 sufficient follow-up shots when filled with air to capacity
Patent-pending Lightspeed valve
24 cubic inch carbon fiber tank holds 4,500 psi compressed air
Regulated to 3,000 psi per shot
Utilizes Quick Disconnect Foster fitting for filling
Standard Magpul AR grip
Picatinny Rail 8.5-inch in length with 20 slots
Modern stock design
Three slots incorporated in the forearm for M-LOK attachments
Rear sling stud built-in
43.75-inch overall length
8.5 pound overall weight unloaded without scope
29.5-inch barrel length with full length composite shroud
6 lb. trigger weight
Three safeties: magazine lock-out, trigger block, field safety
SCOPE NOT INCLUDED